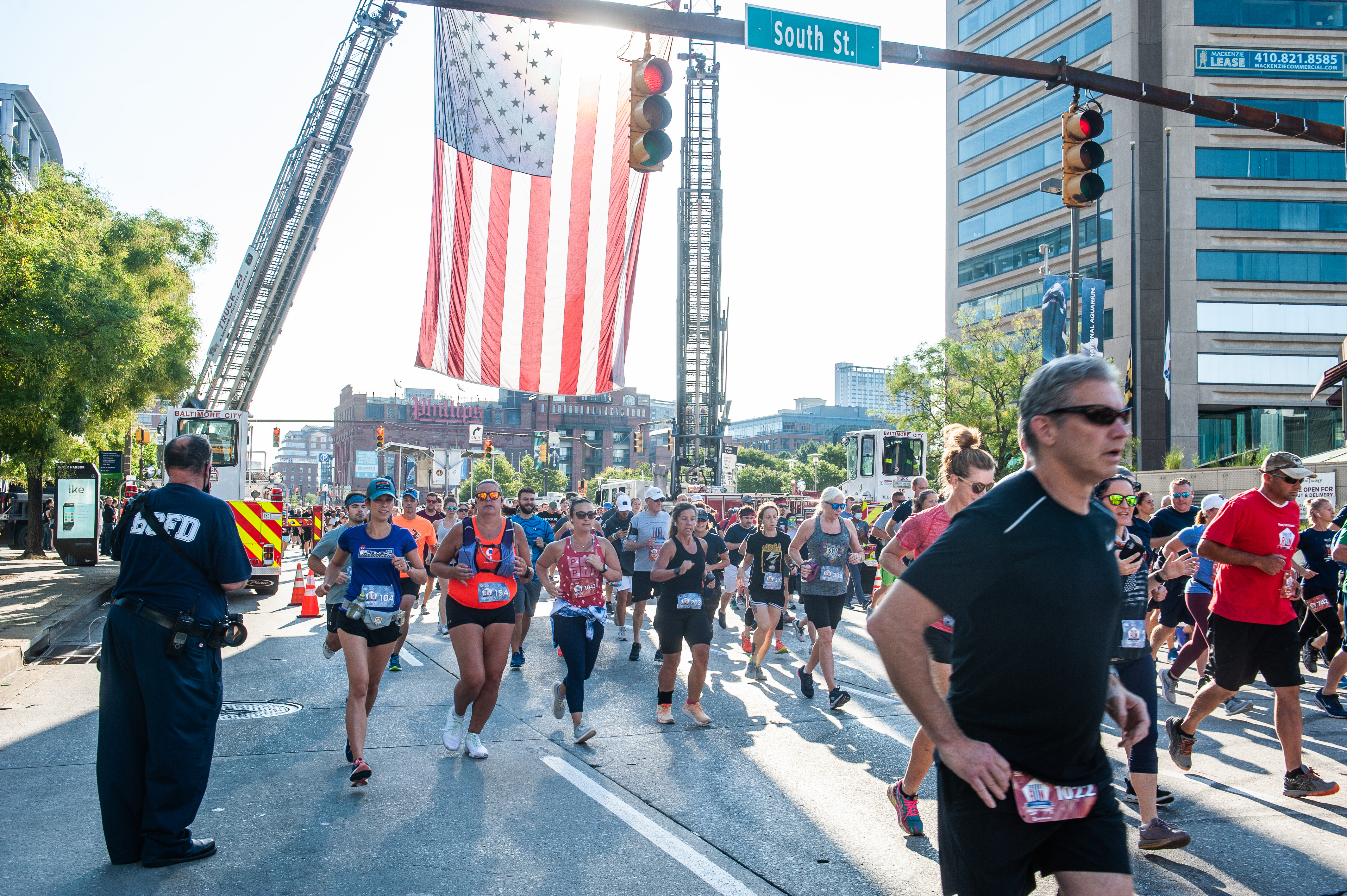 Frederick Runner of the Month: Craig Combs (August 2015)
Monday, August 1, 2016
Craig started back into running to just shy of 5 years ago, and has worked hard to find his way to finishing his 1st marathon this past spring. Despite the well known "bonk" at mile 20, he is eager to come back for more. While training for his next marathon, Marine Corp in October, he always finds a way to soak up the simplicity of running with friends while also getting in his "me time."
So, we present to you Craig Combs as our August Runner of the Month. Read more to learn what really makes this guy tick.
Well I have to start by asking the basic question. Where are you originally from?
I am originally from Mt. Airy, MD (just a few miles east of Frederick), have been here my whole life.
How long have you been running and what got you started?
I got back to running about 5 years ago when a friend called one day and said he wanted me to run a 5K with him to benefit the arthritis foundation (he has rheumatoid arthritis). Of course I said yes, how can you say no to a friend who wants to better themselves… Besides, I had gotten pretty heavy after college and was looking for a swift kick to get me back to working out. I guess this was in July 2010 and the race was scheduled for December, so I figured I had enough time to train for it.
Well, he calls me 2 weeks later and blurts out "Hey man! I signed us up for the Baltimore Marathon!"….It took me a few moments to get over my shock and finally say "You did what?!". Fortunately he had signed us up for the marathon as a relay team and not the full. Let the training begin! So I guess you can say that Matt is who got me back to running (I ran all through high school and some in college).
What motivates you?
Motivation… that's a tricky one. Some people are motivated by winning races. Some people are motivated by the swag bags and shirts… I find that I am driven by 2 things; 1) the competition with myself. I know I am not fast enough to "win" the race overall, so I enjoy seeing the improvements I am making and the difference that my training is making. Hard work really does pay off. 2) the other runners! The whole community of runners (especially in Frederick) are so welcoming and open. You have a question? Ask it! You need some help!? Just ask! Want to try trail running instead of road/track? Go for it! Some one is always there and willing to offer a hand or some advice. Everyone is competing, but not necessarily against you! Everyone wants to see you do better and is willing to help. Its a very satisfying group to be a part of.
What do you enjoy most about running?
For me, running is more than a workout. My wife, Ali, and I have a very busy life. We like to experience all that life has to offer. When I run, it is "me" time. Yes, I know. I am running with a lot of other people (most of the time), but the run is mine. I have to be the one who does it. I have to lace up the shoes and get out the door. I have to keep putting one foot in front of the other. It is time that I get with myself to check in on "me". It sounds a bit selfish to say it that way and I think that is ok. I think we don't spend enough time take care of ourselves anymore.
What is your favorite distance/race to run and why?
I've done most everything up to a marathon (ran my first one this year in March! Shamrock Marathon in VA Beach). I am currently training for the Marine Corps Marathon in October and have set my heart on breaking 4 hours. I was so close to doing it at Shamrock, but I bonked with about 6 miles to go. That was tough to deal with, I was mentally and emotionally drained after this race. I felt so good through the whole race right up to the point when I fell apart. I really thought I was going to make it. That being said, I still get a lot of personal satisfaction out of telling people "I am a marathoner."
If you could choose to participate in one race anywhere in the world, what would be?
My favorite distance right now is probably the 1/2 marathon though. It is long enough that I have to train for it, but I don't feel completely whipped at the end. The full marathon took so much out of me physically, it took about 4 weeks before I was back to "normal". With my current level of training/fitness, the 1/2 marathon is still a tough race to do well in, but I don't have to take a bunch of time off afterwards to get my legs back under me. It sounds a bit sappy, but my favorite 1/2 is the Frederick Running Festival! Big enough to have good support, perks, and crowds along the course, but still has the smaller race feel to it when you are out there. I've done it every year since I started back to running (although the first couple of years I did it as a relay team). Recently, I re-found my love of trail running too (Thank you Nicole Davis for putting together the beginning trail runners group!). So I am excited to spend more time in the Shed and some of the other trails around the area. And I am planning on doing my first ultra next year (fingers crossed!).
What your go-to post race food/ meal?
Post race food?! Yes please! Anything I can get my hands on (after a cold beer). I always seem to crave either Mexican food or burgers though (too bad Wags is closed on Sundays, I would eat there after every FRF). And pre-race is always pasta. Ali is Sicilian, so I get spoiled when it is the night before a race. And if I am super lucky and she has time, she makes fresh rolled pasta!