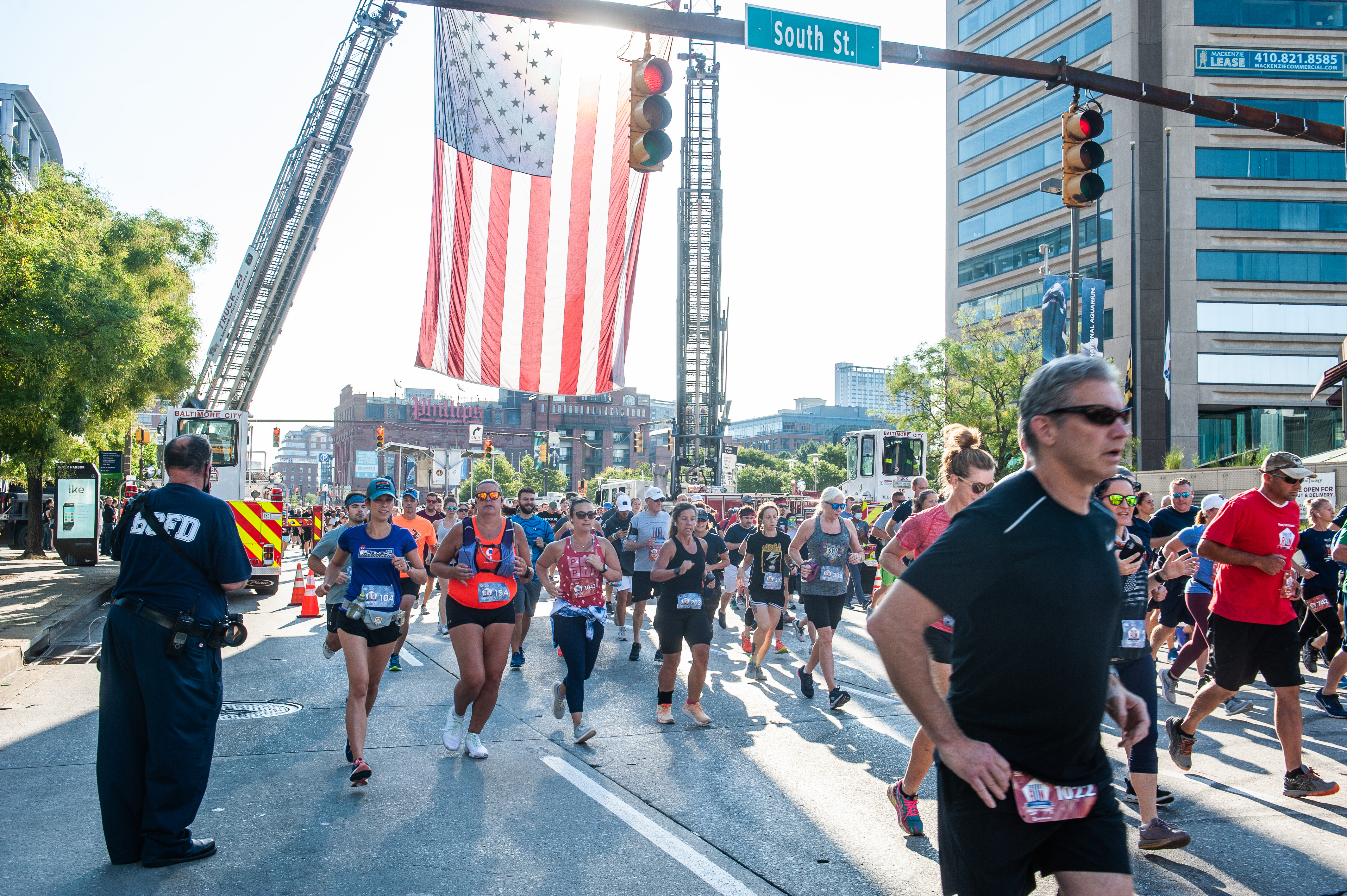 Shopping the Baltimore Farmers' Market to fill the Healthy Runner's Plate
Wednesday, May 11, 2016
Spring is here and the roads are full of runners! If you're logging serious miles this spring, it's important to eat well to repair and restore your body, and to keep your immune system healthy.
One of my favorite places to shop for healthful food isn't a store—it's the farmers' market. The produce there is freshly picked, containing more nutrients than produce that's traveled across the country for days and days. I can talk to the farmer who grew it and ask for tips on storing and preparing it. Plus much like when I shop at Charm City Run, when I by directly from local producers, my dollars are going directly to the local economy.
Summer tomatoes, peaches and corn are still a while off here in central Maryland, but there are plenty of excellent choices for the healthy runner's plate! I visited the Baltimore Farmers' Market and found plenty of vegetables, fruit and herbs full of antioxidants (the fancy word for chemicals that prevent cell damage) and phytonutrients (fancy word to describe chemicals in plants that protect us from disease and help our bodies work better). There are also plenty of fiber-filled options, beneficial for cholesterol levels while also keeping us feeling full—especially important in managing the runner's ravenous appetite. Some of my favorites:
Asparagus
This perennial favorite contains folate, a B vitamin best-known for preventing birth defects that also helps to build nearly every cell in our bodies. The vitamin K in asparagus helps with wound healing, especially useful for runners like myself who tend to take a tumble or two running trails. These beauties came from Gardeners Gourmet.
Parsley
"Parsley?" you ask, "The curly green garnish at the side of the plate?" Yes, that parsley! This under-appreciated herb is loaded with phytonutrients and vitamin C. Add roughly torn leaves of flat leaf parsley to a green salad or roasted vegetables for springy, herbaceous flavor.
Strawberries
Full of vitamin C that helps our bodies make collagen and supports immunity, the only downside to strawberries is how quickly they fade from firm and sweet to moldy and mushy. Eat your berries quickly to get the best flavor and health benefits out of them, or clean and freeze them to enjoy later in the summer. Visit the Agriberry booth for truly outstanding berries!
Spring onions
Did you know these long green shoots have 100 times more phytonutrients than other onions? (Robinson, Jo. Eating on the Wild Side.) The green portion is where all the good stuff is, including vitamins A, C and K, plus more folate and even iron. They're the secret ingredient in remarkably delicious salads and grain dishes, adding lots of flavor without salt or fat.
Leafy greens
As runners (and as humans), leafy greens should be a huge part of our diets! Full of filling fiber, Swiss chard, kale and collard greens are also packed with a wide variety of phytonutrients and they're rich in calcium, important for bone health. Buy a bunch or buy a plant and grow your own!
In addition to farm stands, there are plenty of locally made goods at the Baltimore Farmers' Market that belong in the runner's pantry or fridge: Hex Ferments offers outstanding fermented vegetables and kimchi; the Breadery bakes whole grain breads without artificial preservatives; Nuts To You carries natural nut butters made only with the nuts themselves; and Michele's Granola toasts up a whole grain muesli loaded with oats, seeds and nuts.
If you need support on creating a healthy diet to support your active lifestyle, consult a professional like me for support. Have fun at the market!
About the Author: Lauren Shafer, Empowered Eating Expert
Lauren is a certified Health Coach who helps busy Baltimoreans articulate their health + wellness goals, and make measurable, sustainable diet and lifestyle changes for lasting transformation. Though she would never be described as athletic in her youth, Lauren started running as an adult, begrudgingly at first, until she discovered she actually enjoyed it. Now an 8-time marathoner and 3-time ultra-marathoner, you'll frequently find Lauren running on roads and trails with her husband John and dog Osita.
To learn more about Lauren, visit www.live-full.com or www.facebook.com/LiveFullBaltimore. Contact her at lauren@live-full.com.