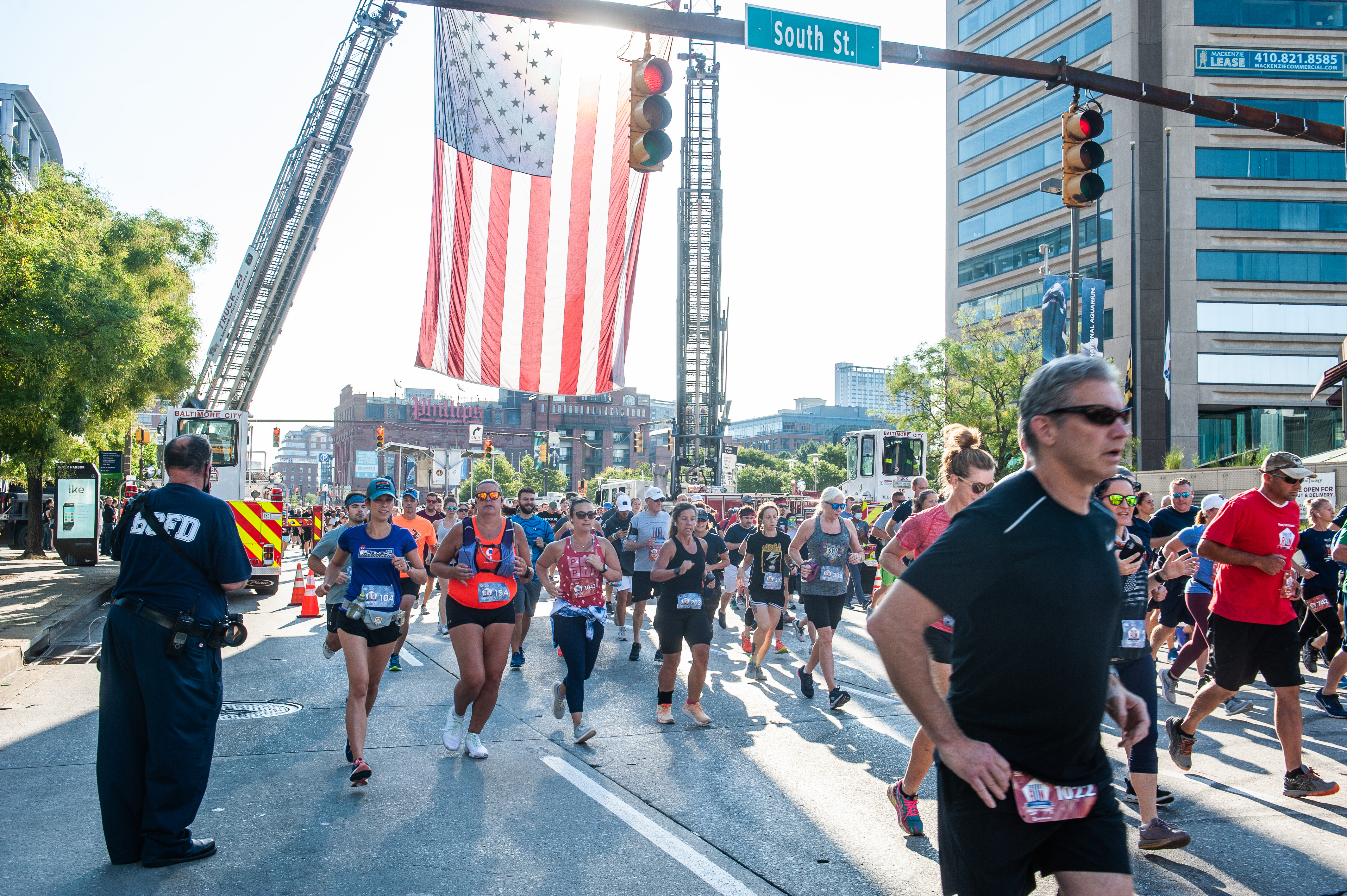 Frederick Runner of the Month: Shawn (February 2015)
Sunday, February 1, 2015
Our Runner of the Month is a women that truly could not have been more of a "perfect fit" for the month of February. The month of love. A women that spreads her love for running and life with one of the the biggest hearts (literally.) A mother, wife and friend to many who had a vision to run some day (just shy of a year and half ago) and did exactly that. Shawn is a runner who has certainly surpassed her "newbie" runner status by completely over 30 races in her first year of running!
She truly knows how to love and radiates her energy in the community as a natural motivator. We are SO honored to share Shawn's story and put her in the spotlight for this month's Runner of the Month.
The beauty of Facebook has informed me that you just finished the Key West Half Marathon. So, I just have to ask where exactly is your hometown and where have you lived in your past?
I grew up in Hagerstown, Maryland. After high school I spent a few years in the US Army and during that time I lived in South Carolina, Georgia, Germany, Panama and Washington State. BTW Did I mention I "hated" running when I was in the Military!!! When I got married 16yrs ago, I moved to Frederick with my husband Jeffrey.
When did you start running and what triggered you to start?
I literally started running on Labor Day in 2013. My family and I were in Ocean City, Md. I remember sitting on the Porch at our Hotel early in the AM having my usual Dunkin Donuts coffee and Munchkins and was admiring all the runners on the Beach and Boardwalk. I said to my husband "I am going to get up at 6am tomorrow and run on the Beach" Well, I did it and now I am totally addicted. It was not always fun (of course it is now). I went through some "overuse" injuries from knees to calves and even lost a few toenails along the way. I wouldn't trade those "pains" for anything, I am actually learning from them.
During your first year of running, how many miles did you cover?
During my first year of running, I ran a total of 836 miles and ran in more than 30 races. Most of those races were 5K's but I did manage to get in 4-10 milers, 4 half marathons and even a FULL.
What truly motivates you to stay active?
What motivates me to stay active is 15 years ago, after giving birth to my daughter Kaitlyn, I had developed a heart condition called Postpartum Cardiomyopathy. Basically, I had an enlarged heart with an ejection fraction of 12% (a normal EF is 75%). When I was diagnosed, I went through an evaluation at Johns Hopkins in Baltimore and was immediately placed on the Heart Transplant List. I was told that if I did not get a new heart within 5yrs, I would not survive. After 2 years of being on the transplant list and not successfully finding a donor that was a perfect match, my doctors ran some tests and realized that my EF had miraculously improved to 35%. They stated that I could come off the transplant list but would likely live on heart medication for the rest of my life. Well it is 15yrs later and I now have an EF of 55% and no longer take any heart medications. This is what motivates me to stay active.
In 2014, looks like you ran 30+ races varying from 5K's to Marathons that is pretty impressive! What would you say your favorite distance is?
Funny you should ask this, 6 months ago, I would have said the 10 mile Distance is my favorite, but you will actually find me at more half marathons in 2015 then you will 10 Milers!
What have you learned about yourself since you started running?
I learned that I am mentally stronger than I ever imagined possible. After running in the Mission 10 Miler last year (which was my first race longer then a 5K) during the sleet and freezing rain, I knew then I could do anything I set my mind to.
If someone is intimidated by running their first race or first mile even, what would be your best advice?
First: I would strongly recommend taking Mark Lawrence's Chi Running Class http://www.chiliving.com/learn-it/certified-instructor/100592/ to learn proper form during walking and running. I honestly can say that if I would not have taken this class I am not sure that I would be where I am today with my running. It is important that you learn how to run with proper form to eliminate or at least limit the injuries. With this comes getting properly fitted for running shoes!!!
Second: If you have never ran a mile before, I would suggest starting out as a walker and "sprinkle" in some 20sec running intervals. Keep using the walk/run intervals for as long as needed (could be few weeks, could be few months) eventually increasing your running time/distance. Just remember that it is ok to walk during your run, I think that is important to tell anybody who is just starting out that walking is acceptable during your run.
Third: Join a Running Club!!! I actually belong to two clubs here in the Frederick area. "The Steeplechasers" and "Mom's Run This Town". Both are awesome groups, offering lots of support and motivation. Joining a group helps keep you accountable, especially when you are a new runner, knowing that somebody is waiting on you for a run, helps keep you accountable and less likely to "bail" because maybe you are not feeling it that day. I have to give a shout out to my fellow Turtles…
So besides spending a lot of time running, what else do you enjoy doing?
I enjoy spending time with my beautiful daughter Kaitlyn (now 15yrs old). She is at that age where she wants to go to concerts and or shopping. I suffered through many Justin Bieber concerts in my day, luckily she has moved on from him and most of the music she listens too now is also on my playlist. I also enjoy spending time with my supportive husband Jeffrey. He was not crazy about my running in the beginning but now he is the one who is finding me a race to run when we are on vacation!! During the summer, we spend lots of weekends in OCMD or trekking off to Florida for a long weekend.
What's on the agenda for 2015?
As of Jan 30th, and I am still adding to my calendar, I have 17 races on my schedule to include 2-5k's, 2-10K's, 5-10 milers, 6- half marathons and 2 full marathons.
Most of my Spring and Summer races are pretty local but my fall races have me traveling out of state a bit. I will be traveling to Adams County Ohio in September to "Run With The Amish". In October, I will be going to Kansas City for the Waddell & Reed Full Marathon. In November I will be heading to Vegas for the Rock-N-Roll Half.
I am hoping to add NYC Marathon to the mix as well in November (I have a 12% chance my name gets pulled for that)
One last fun question: After a race or long training run what is your food?
After my long runs, I love to chug a bottle of Muscle Milk with my Eggs and Pancakes!!