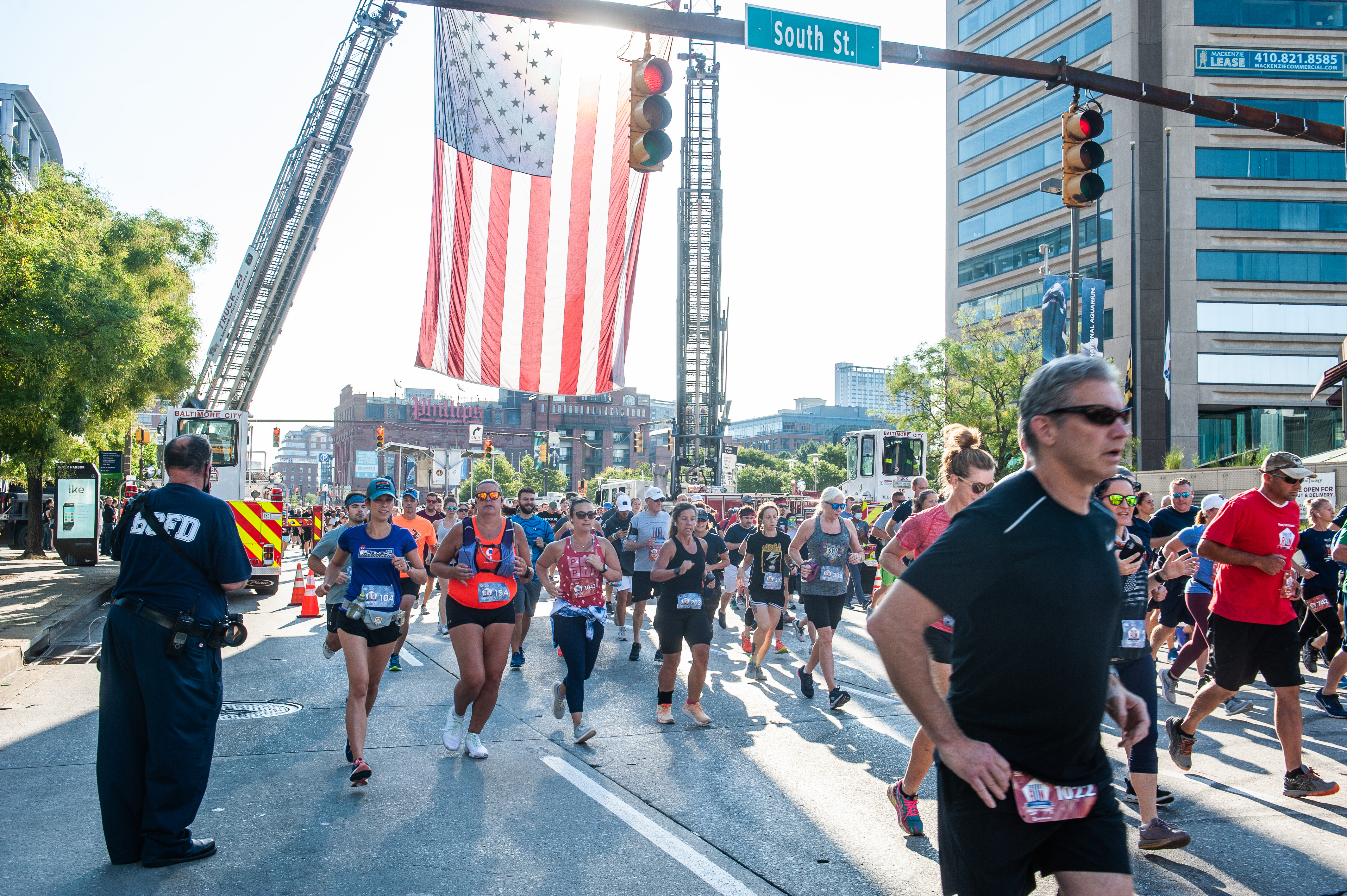 Frederick Runner of the Month: David Welch (November 2015)
Sunday, November 1, 2015
If you haven't had the pleasure of meeting our November ROTM, this is the perfect opportunity to get to know this charming runner. This month we highlight a runner that has taken ultrarunning distances and honed in on a little thing called we call speed, to literally take off in this sport. With a respectable 4:39 finish time at Rosaryville in 2013, that was truly just the start of something good for years to come. Races following this sub 5hr 50K were:
2014 Catoctin 50K in 5:44 placing 5th, Terrapin Mountain 50K 5:08 (placing 16th overall in 2014 and 13th this year), 2015 Bull Run Run 50 miler in 8:17 and the most recent performance at Grindstone 100 in 23:55 placing 14th overall.
The beauty about this runner is how truly humble he is in this sport. If you talk to him post-race it's almost like he is still shocking himself with these finishing times. He has found the magic potion to juggle family life, work and training to not only complete some of the toughest races on the east coast but dominate them! It is our honor to introduce to you, David Welch, a loving father of 3 boys, husband and friend to many as our November Runner of the Month.
**FYI – Lucky for me, I had a plethora of great photos to chose from because David's wife is fantastic photography. All photos in this blog credit to Lindsey Welch Photography. If you haven't already, check out her work! http://www.lindseywelchphotography.com **
Where is your hometown?
That's not a simple question for me! I currently live in Frederick but I was born in Farnborough, Kent in the Southeast of England. I moved to Houston, Texas as a teenager then escaped to Southern California after high school. I did my undergraduate studies at Berkeley and lived in the Bay Area for several years. Then I lived in Utrecht, in the Netherlands, for almost five years during my Ph.D. studies. After the Netherlands, I lived in Scotland and then moved to Frederick with my family,
So even though it looks like I move every few years, we're not planning on leaving Frederick – we love it here!
How did you first get into running?
I started running regularly for fitness while living in California (I think the primary goal was to flush out the excessive beer and tacos from the night before). I didn't start racing until the mid-2000s. I think my first race was a 10K and then I ran my first marathon in Barcelona in 2006. When we moved to Frederick, I wandered into If the Shoe Fits looking for some new shoes. A certain Mr John Leonardis helped me out and suggested I head up to The Shed on a Sunday morning and ask for Steve Dobson. I remember barely keeping up with Steve and a few others on that run and I was immediately hooked. Since then I've spent countless hours up there exploring our awesome local trails.
What is your favorite distance to run?
That's a hard question! I love the 50K and 50 mile distance as they allow you to run relatively fast in the race and recover quickly. However, much to wife's dismay, I think I may be hooked on the 100 mile distance. At least for now …
I'm aware that you worked with Coach Cooper with URT leading up to the Grindstone 100, what were some of the most challenging weeks/ workouts you had in training and how were you able to use that in race day?
It was such a great decision to work with Lori for Grindstone. I started a new job in April and we had a baby arriving at some point in June. I knew Lori would help me balance training with other priorities and, with her experience in racing ultras, help train me specifically for a tough 100 mile race and run well on race day. She certainly devised some pretty tough/cruel workouts to get me ready.
One week that comes to mind was about six weeks out from the race. I ran about 75 miles that week plus some strength training and a ride on the bike. The workouts included a 2 x 5K tempo run, a crazy steep incline treadmill workout with a weighted backpack, a 36 mile run with Lori in Catoctin Mountain Park, which included an awesome bonk and even better fall, and then a 15 mile run in the Shed with Ryan. That week gave me so much confidence for Grindstone – I had my calorie intake dialed in and I knew I could still run strong and fast after putting in some serious mileage and experiencing a setback during the long run. I used many experiences from that week during the race.
Grindstone seemed like a pretty magical day for you, did you ever imagine in your lifetime you would be running a 100 mile race in less than 1 day!? How did the magical 24 hours go?
If you had asked me 18 months ago if I would ever run a 100 mile race I would have laughed at you. Last year I had the pleasure of pacing Ryan Cooper over the final 35 miles at Grindstone. After that experience I knew I had to try the 100 mile distance and returning to Grindstone seemed like an obvious choice.
Running sub-24 hours was definitely a stretch-goal. Lori told me I had the potential but my primary goal was to finish while enjoying myself and knowing I had pushed myself as much as possible.
I started out pretty conservatively, I think I was in around 40th place coming into the first aid station and feeling good (despite being pretty wet from the storm that rolled through). I had my first dark patch at around 11pm – I felt so tired and really wanted to lie down and sleep but I just told myself to keep moving and that the tiredness would pass. I thought back to my energy dips during training and took in some additional calories and caffeine and before I knew it, I was feeling good and running strong.
My second tough period came around 2am – it was dark, super foggy and I had a very long climb to complete after the North River Gap aid station. I thought back to that tough week of training and a Maryland Heights night run with John. I knew if I just kept moving and taking in calories my body would find another gear. I made it to the top of the climb and focused on getting to my pacer at mile 65.
When I met up with Ryan at mile 65, I was on pace for around a 25.5 hour finish. I definitely had a new level of energy when I started running with Ryan but I had no thoughts of breaking 24 hours at that point. Ryan was an amazing pacer – he made sure I was taking in enough calories, kept me focused on running well and hiking strong on the steep climbs. I think it was around mile 80 that we started seriously talking about breaking 24 hours. There were many magical moments during the race but the way my body was able to respond to the challenge of breaking 24 hours was something I will never forget.
Seeing my friends and family at the last few aid stations really spurred me on. I had to run the last few climbs which was pretty tough after running 95 miles but we made it and finished in 23 hours and 55 minutes!
How has eating a strict plant based diet helped in your running/ training?
Since adopting a whole food, plant based diet a few years ago, I have so much more energy throughout the day, even if I've had a particularly long or strenuous workout in the morning or the day before. I have more energy during my training runs and races and I also recover much more quickly after races. Although not directly related to running, I get sick far less often and on the few times I have caught a cold the effect is far less. This results in fewer days without running. It also doesn't hurt to have a wife who cooks amazing plant-based foods!
What is your favorite piece of running gear?
I love running shoes (I own quite a few pairs) but my favorite piece of gear is probably my Ultimate Direction AK Vest. I bought it before my first 50K two and a half years ago and it's still going strong. It holds all my stuff for training runs and races and has never failed me.
Where is your favorite place to run?
The Shed!
If you could travel and run any race in the world, what would it be?
Like many of my fellow ultrarunners, I would love to run Western States because of the history associated with that race. However, if I had to pick one race it would be UTMF (Ultra-Trail Mt. Fuji) – I love visiting Japan, we have family there and the landscape around Mt. Fuji is incredible.
Do you think any of your three boys will become runners?
Yes, I'm pretty sure. Thomas, my six year old son, already loves running. He ran two 5Ks this year – it's more of a challenge to keep him from running too much! He loves running on our neighborhood trail – the more rocks and roots, the better. I'm sure the others will follow in his footsteps.
My wife and I plan to start a neighborhood running group for kids next year. Running is such a great sport for kids and, as the parents of three boys, we really want running for both young boys and girls to be more accessible.
What is the best advice you would give to someone who is just starting out in running or trying to decide on running further distances?
For someone just starting out, I would tell them to always remember to enjoy themselves when running. That might seem like such an obvious thing to say but it's sometimes easy to get wrapped up with gadgets, small form improvements, race times, etc and forget about the simplicity and beauty of running. It doesn't get much better than an early morning run watching the sun rise or a long run in the mountains with friends, just listening to your breath and your feet landing on the ground.
One last question, what is your favorite post race meal?
My wife's awesome homemade veggie burger, some sweet potato fries, a huge salad and a beer!